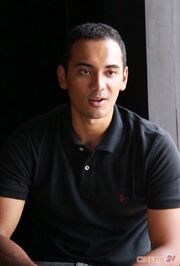 Ario Bayu was born in Jakarta, February 6, 1985. He is an actor and model photos Indonesia. Ario publicly known as a photo model in several men's magazines, and playing the character as a clean cop who has a life of homosexuals in the film KALA. Ario get a role as an adult character in the film latitude Laskar Pelangi.
Men who had lived in New Zealand had a chance to theater education, opportunity came when elected as the only Indonesian who was elected in the Young Shakesepeare Company workshop and get a chance look at the Globe Theater in London.
Ario Bayu was originally known as a photo model. But as it is considered to have potential in acting, she began ogled for playing movies. First starring film titled Bangsal 13, which was released in 2005. The horror film was able to introduce it even further into the world of film making in the increasingly frequent next appeared in several films.
Following the success of his first film, respectively Bayu began starring in the big screen. Slowly but surely the quality of the world is beginning to be recognized. The films that starred the film was not just mock because it proved able to attract much attention.
Bayu had starred in several films such as Pesan Dari Surga (2006), Kala (2007), Laskar Pelangi (2008), Draupadi (2008), Macabre (2008), and the Pintu Terlarang (2009). His role in the film Kala, Laskar Pelangi and Forbidden Doors, has earned him the award-winning international film festivals. In addition, Bayu also was nominated for the event Indonesian Movie Awards as Best Supporting Actor and received awards for Best Actor of the Year 2009 from Indonesia Elle magazine.
As a viewer in the theater, in 2011 this Bayu survived as one of the main supporting actor in a musical performance Onrop which catapulted him back. The actor is 26 years since its inception has been involved in the production of Catatan Si Boy. In a theatrical release planned for this year, he served as Satrio, the main character is developed in the concept of thinking. Easy going personality, interesting characters, as well as the background of achievement, and it would make the figure as a new generation idol this time.
In Dilema Movie, Ario's role as Ario,
an idealistic young cop who was just appointed to be a detective.
Pranara Luar