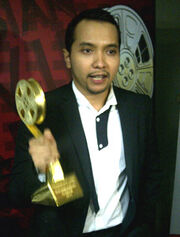 Rangga Djoned (lahir 18 April 1980; umur 31 tahun) adalah seorang aktor Indonesia. Ia mengawali kariernya di dunia seni peran dengan menjadi pemeran pembantu di sebuah film karya Joko Anwar "Janji Joni" pada tahun 2004.
Setelah membintangi iklan televisi seperti Sampoerna Hijau Pro Liga "gila voli" dan SMART phone serta beberapa kali bermain dalam Film Televisi (FTV)antara lain "Pejuang Cinta" (starvision) sebagai supporting talent dan "Main Api sampai Mati" (starvision), ia pun berkesempatan berperan dalam sebuah film "Aku Perempuan" yang disutradarai by Robby Ertanto yang ditayangkan pada JIFFEST tahun 2009.
Beberapa kali Rangga Djoned menjajal aktingnya dalam pertunjukan teater "Key Exchance" by Kevin Wade as philip (main talent),"Dice and Cards" by Sam henry Kass as Richie (main talent),"Soft Dude" by Joe Pintauro as Dude (main talent),"Bang-Bang you're dead by william mastresimone Monolog "Indian" by Tennesse Williams as John grass.
Pada tahun 2010 sarjana Art and Visual Communication Design lulusan Universitas Trisakti Jakarta ini berperan sebagai Romi dalam film "18+" yang disutradarai oleh Nayato Fio Nuala (Starvision). Film lainnya yang diproduksi pada tahun yang sama oleh Break Film dan MNC adalah "Seribu Sujud". Dalam film garapan sutradara Nanang Gani ini Rangga berperan sebagai Eric (main talent).
Di sebuah FTV "Susuk Barbie" yang disutradari oleh Rudy Aryanto Rangga berperan sebagai Gofar(pemeran pembantu utama) yang merupakan bagian dari rangkaian Sinema 20 Wajah Indonesia SCTV produksi Gisela Citra Sinema. FTV lainnya dimana Rangga Djoned mendapatkan peran utama adalah garapan sutradara Petrus Suryadi berjudul "Cinta Bukan Reality Show" (Rapi Films).
Pranala Luar